CAT Caterpillar ET is pc-based heavy duty diagnostic tool for caterpillar engines. Nowadays, caterpillar communication adapter 3 comes with Auto key Programmer CAT ET 3 2015A software. VOBDII.COM also has the CAT SIS 2016 software hdd available.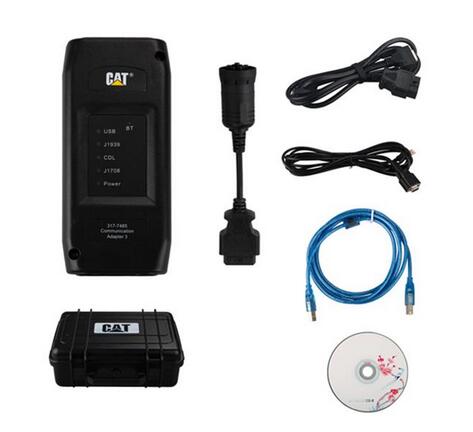 If you wanna know more about cat caterpillar et adapter 3, please you can read some technical questions that other people met. Today, we will get the summary of cat caterpillar et diagnostic adapter faqs. Hope that will help you.
CAT ET III Adapter FAQs:
1. Q: hello friends could enable ET 2014A, I'm trying to use nexiq, so I get error Plz help me
Answer:before any procedure, you have to install the driver nexiq, below the ET2014, and the preferences window and locate the connection utility, below use the mechanism approved RP1210, stick with the option to click Advanced and select USB link Nexiq, end click OK, and that's it!
2. Q: When open ET I get the message
License Error.
If problems persist, contact Support Center (E-mail: SUPPORT.ADMS@accenture.com) for help.
[FLX05000009]
Answer:There are several mistakes that we can find when you install this patch, usually recommend redo the installation, delete the environment variable, paste one by one the files, go back to change the mac address with a file or procedure we lack gives this error.
3. Q: 2014ET is working good on PC.But SIS is need activation,what I need for run SIS,which version need SIS for lisance.dat ??
Answer:Run all as administrator
4. Q: Connected laptop with win XP, 2011B and worked perfectly! Tried to reactivate 2014A on win 7 laptop using the patch from edmtech running as administrator and it said the MAC address change was successful but it goes back to what it was when I close it and ET says it's not licensed. Any ideas?
Answer:you must change the mac address for pci express because with other mac address not work.
5. Q: Install Cat ET 2014A at ASUS apply windows 8.1,but Error when Cat Network Activation ID, adapter use Realtek PCIe FE Family controller of Cat network Activation ID
Answer:run as administrator Cat Network id.
If you have other questions about caterpillar et 3 adapter on www.cnautotool.com , please feel free to contact vobdii.com team, then you will get the best offer and service.