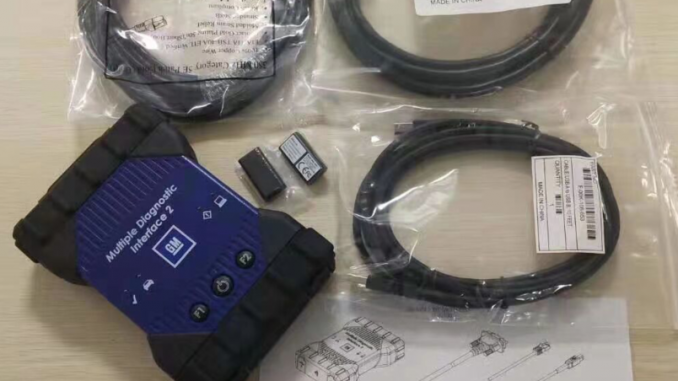 Now there are two models of the GM MDI 2 the market ,One is copy cheaper, another one is original expensive.
1: GM MDI 2 Diagnostic Tool Multiple Diagnostic Interface this model is copy cheaper, if you need this model you can choose you need wifi or not. If you need the wifi. Pls note, the wifi we have put it on the mother board, there is no other extra wifi card to provide. If you choose the wifi,but when you run it, you do not know how to connect with the wifi, attached the setup video for your reference, you can setup the wifi according the video.
Function :
MDI scan tool is the Multi Diagnostics Interface
Works as the high-quality Vauxhall / Opel dealer diagnostic interface
Can be used with Global TIS, GDS 2, Tech2Win software on a new laptop
Provides full dealer level diagnostics and programming
Supports all Vauxhall /Opel 16 pin vehicles from 1996 to 2022
Perfoms quickly and used easily  to make customers happy and win new business by offering the exact same functions as the main dealers, including:
* Automatic vehicle recognition
* DTC reading and removal
* Complete list of live data streaming for all main ECU
* Recordable / playback of live data
* New software flash for existing ECU to fix drivability issues
* Programming and installation of new ECU (PCM, ABS, Instrument cluster, air bag, fuel pumps etc.,)
* Programming new keys
* Setting / removing speed limiters
* J2534 pass thru offering ECU re-flash and diagnostics for other vehicle manufacturers, when subscribed to their specified software
* More dealer specific functions
2: Some customer said the GM MDI 2 with wifi. There is sperately wifi card like below picture.
Yes, We have this model, this model is expensive original, just the wifi card need 300usd.the copy one with the wifi without the wifi card, have set the wifi on the motherboard. How to setup the wifi,we have attached the video before.
Fuction:
* Automatic vehicle recognition
* DTC reading and removal
* Complete list of live data streaming for all main ECU
* Recordable/playback of live data
* New software flash for existing ECU to fix drivability issues
* Programming and installation of new ECU (PCM, ABS, Instrument cluster, airbag, fuel pumps etc.,)
* Programming new keys
* Setting / removing speed limiters
* J2534 pass-thru ECU re-flash and diagnostics for other vehicle manufacturers, when subscribed to their specified software
* More dealer specific functions
If you need learn more, you can contact with us sales@obd2tool.com or you can search on our store: https://www.obd2tool.com