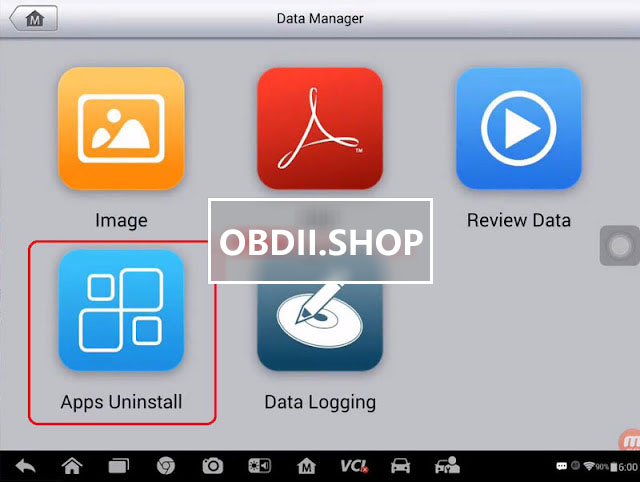 Error
I'm getting an error message whenever I try and do an update on Autel MaxiIM IM608. It's said "Insufficient space of internal memory. Please clean up space or insert a 16G-128G SD card. BMW Volkswagen, Hyundai, and Peugeot software can be downloaded to the SD card."
"If the SD card is inserted but the system cannot recognize it, please check if: 1. SD card is damaged; 2. SD card file system is FAT32 format."
For some other Autel scanners like MaxiSys MS906BT or Elite II may prompt "Insufficient space on SD card. Please clear the SD card space."
Before that, we may try the following 2 steps to keep Autel tablets storage healthy during daily work.
Step1. Check Storage
Home >> System Settings >> Storage
Here we can check our storage status anytime. As you can see, the storage space is running out now.
Step2. Delete Temporary Folders
This will delete vehicles including fragmented files, temporary pictures, videos from Internet.
Path: Home >> Maxi Tools >> GC >> Garbage Clear
Solution
This solution can be applied to most Original Autel Diagnostic Tools. It's going to completely wipe out and delete everything off including any photos, customer information, history records. So make sure you have done the backup & restore on those specific files.
There are 4 methods that can solve this issue.
Method 1. Clean up the music or pictures.
Method 2. Insert one new SD card.
Method 3. Delete the app client that do not use.
1.Data manager >> App Uninstall >> Selected unused vehicles to delete
2.Home >> ES File Explorer >> Scan >> Vehicle >> selected unused folders to delete.
(Note: If you're out of update contract, this will delete forever and can't be recovered.)
Method 4. Reset to Factory Spec.
Home >> System Settings >> Reset >> Factory data reset >> selected Erase SD card >> Reset tablet >> Erase everything
Note: Make sure you're under update contract before operations. Otherwise, the info will be deleted forever and can't be recovered.
Once coming a message "Internet connection is required for identification for the first use of the software", which means we have completely deleted everything out of the tool.
There are 27.7G available in storage now.
For vehicles are grayed out in library, you have to do the system updates at first.
More information about Autel Scan Tools please refer to https://www.obd2tool.com