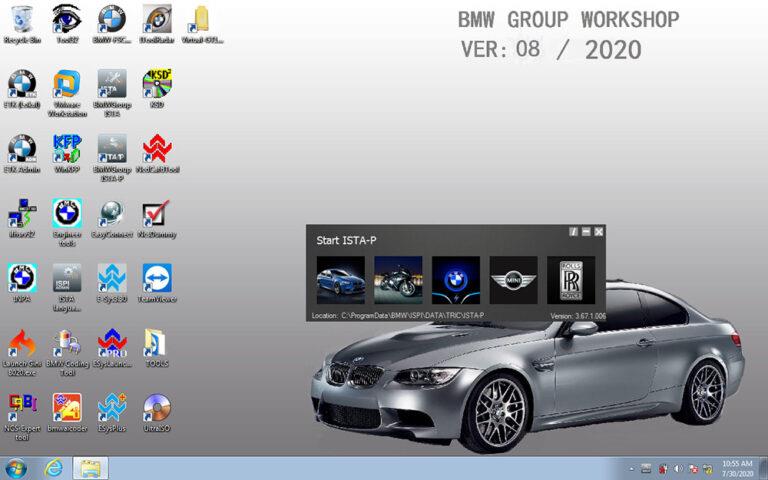 Newest BMW ICOM Software V08.2020 has been verified to work with BMW ICOM A2+B+C and BMW ICOM Next diagnostic tools.
V2020.08 BMW ICOM software Update info:
ISTA-D 4.24.13
SDP Programming Database 4.24.12, Multilingual
VIN: 2020.06.08
ISTA-P 3.67.1.000 ,
BMW ETK  2019.12
BMW KSD  2019.11
INPA 5.00, winkfp 5.2.3, NCS 3.5.1
BMWAi Refresh Hidden 4.6
E-SYS V3.30 and V3.30, database V67.0, Chinese version software added
DR.GINI B020
The latest FSC navigation code software and IBAC coder
Added DISV57 and DISV44 for old BMW cars, diagnostic and programming
Supported languages: English, Dutch, French, German, Italian, Japanese, Korean, Polish, Portuguese, Russian, Spanish, Swedish,
Thai, Turkish, Czech, Indonesian, Greek, Traditional Chinese, Simplified Chinese
If you want to change ISTA language, please open the [ISTA language install] folder in the software installation kit and select the language you want to run.
When the language is installed successfully, open ISTA+ again, and then you will see the language you desire has been changed.
Operation system requirements:
Win7 system
Dual-core processor, better I3 above, over 4G of memory
Select V2020.08 BMW ICOM SSD or 500G HDD depends on your actual need.