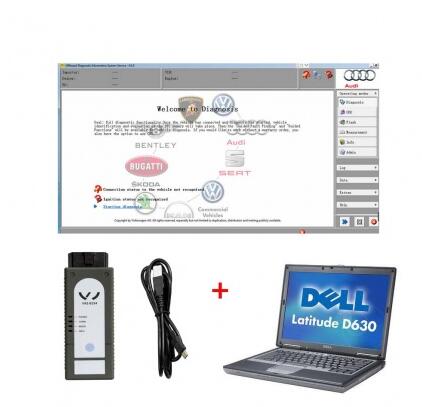 VAS 6154 diagnostic tool can be used for all VW Audi Skoda vehicles from 2000 onward including NEW & FUTURE MODLES under production via wireless network. Here have collected the common questions from customers and offered the related answers.
VAS6154 Diagnostic Tool Wireless Download Install License Faqs 1
Q1: The 16 & 19 files in the CD come with VAS6154 have been lost, where to download the software?
A1: Free download from these tested links:
ODIS 5.15: https://share.weiyun.com/5QR2p9C (password: stbtl4)
ODIS 5.16 (latest) : https://share.weiyun.com/5UICOap password: kl3nxz)
Q2: Which operation system should I install  VAS6154 software on? Can I install Audi, VW and Skoda software at the same computer?
A2: Win7 or Win 10 is ok. You can install the car brands software above at the same computer.
Q3: When I install software for my VAS6154, it prompts there is a virus in it, how to do?
A3: Please disable the anti-virus software.
Q4: How do i bypass windows defender in windows 10 to install ODIS software for VAS6154?
A4: It's easy to do. Just close or uninstall anti-virus software.
Q5: Does ODIS software come with ODIS engineering software or only ODIS service?
A5: Both have.
Q6: I have original factory VAS 6154 account, can I program key online?
A6: Yes, you can.
Q7: It prompts the license of VAS 6154 has expired as shown in the picture below.
Vas 6154 Wireless Download Install License Faqs 2
A7: Please check the system date on your computer and adjust it forward.
For example, the expiration time is 1st January, 2020, and you can change the date to any month in 2019.
Q8: Does VAS 6154 support online coding function?
A8: Yes, it does.
Q9: Is it possible to use VAS 6154 for Seat?
A9: No, it isn't. It's better to use VAS 5054A.
Q10 Can VAS6154 program Passat TDI SEL 2014 key?
A10: Yes, it can.
To be continued…