Do you want a professional scan tool or a mid-range scanner? Both the Autel DS808 automotive scan tool and the MS906 scan tool are high-quality scanners. But which one is ideal for your job?
In this Autel DS808 VS MS906 review, we will be able to differentiate between these two amazing OBD2 scan tools.
If you're looking for a faster and powerful diagnostic scanner, then the Autel Maxisys MS906 auto diagnostic scanner is the best choice for you. But if you're a small garage owner with little activity or a car enthusiast who deals with just a few numbers of vehicles, then the Autel Maxidas DS808 scan tool is the best for you.
Comparison Chart: Autel DS808 VS MS906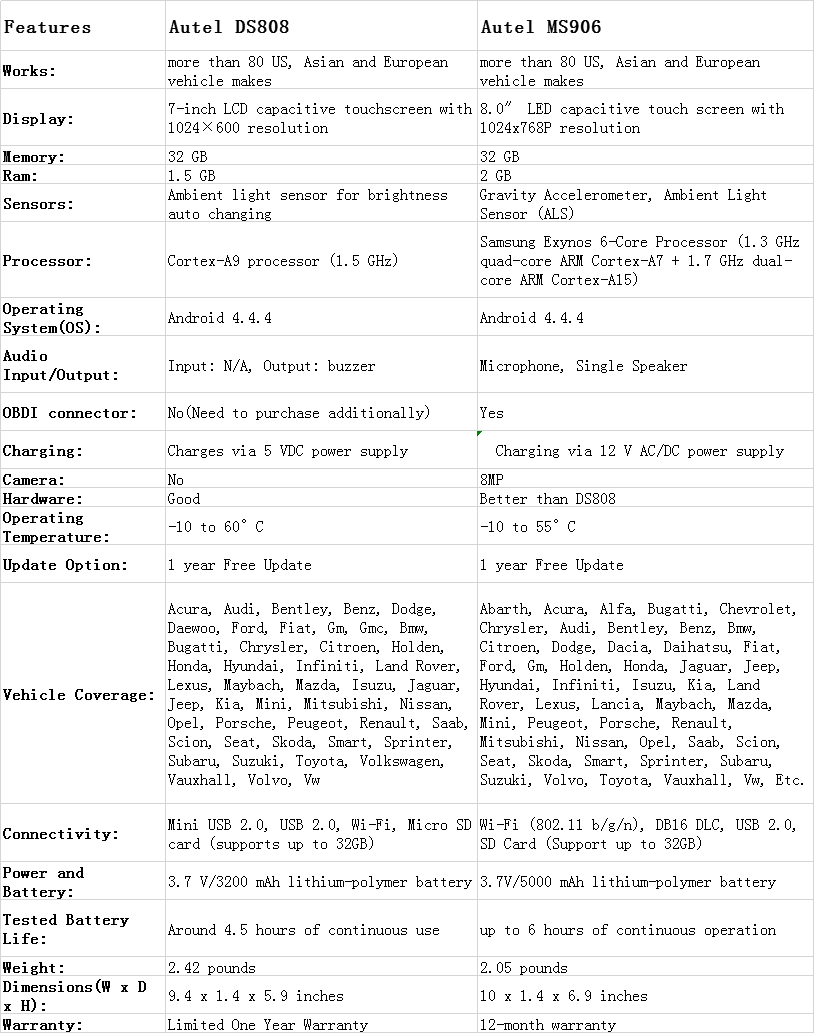 Main Features of the Autel MS906 and DS808 Diagnostic Scan Tool
Autel Maxisys MS906 Automotive Diagnostic Scan Tool
The Autel Maxisys MS906 automotive diagnostic scanner has the same functions as the Autel DS808. The only difference is in the hardware. The MS906 comes with a larger touchscreen of 8.0-inches and has a powerful built-in battery. Additionally, it has a built-in 8MP camera which the DS808 lacks.
Related: Autel MS908 VS MS906
In terms of performance, this scan tool is a bit faster and more powerful. It also covers more than 80 US, Asian, and European vehicles. Apart from that, it offers one-year free online updates and a one-year warranty.
Check Price
Pros:
Powerful operating system that allows the user to multitask
User-friendly design
Auto-VIN technology for easy vehicle identification
Comes with a rear camera for taking photos and sharing with other technicians
Performs wide range of functions
Has wireless connectivity
Broad vehicle coverage of over 80 US, European, and Asian vehicles
Large internal storage
One-year free updates and one-year warranty
Cons:
A longer recharge time
Quite expensive for beginners and small auto repair shops
Autel Maxidas DS808 diagnostic scanner
The Autel Maxidas DS808 is a comprehensive diagnostic scanner. It is an upgrade of the Autel DS708 and functions the same as Autel MS906 scan tool. The device covers over 80 US, European, and Asian vehicle makes and models. Additionally, it is equipped with Android 4.4.4 and a fast quad-core processor. This makes diagnosis and analysis of result to be efficient and quick.
Related: Difference Between Autel MK808 and DS808
Besides, it has a 7-inch LCD touchscreen display with a resolution of 1024 by 600. It can as well perform basic functions, advanced functions, and special functions. With such features and one-year of free online updates, this is a nice gadget to have in your garage.
Pros:
Compact and sleek design
Intuitive user interface
Performs various functions
Covers most vehicle makes manufactured from 1996 and latest
Fast boot-up time of 15 seconds
Full OBD2 support including CAN capability
Free online update and a 12-month warranty
Cons:
Comes with only one year of free updates
Differences between the Autel DS808 vs MS906 Scanner
Screen size
If you want a crisp and clear device, then the MS906 scanner has better gadget. It comes with an 8-inch LED capacitive touch screen with 1024 by768p resolution. On the other hand, the DS808 comes with a nice LCD screen but it is smaller and less clear. It has 7-inch LCD capacitive touchscreen with 1024 by 600 resolution.
Related: Autel Maxisys Elite vs Pro
Battery
The Autel Maxisys MS906 scan tool features a powerful battery in the 5000 mAh Lithium polymer battery. This battery also has a longer run time than the DS808's 3.7 V/3200 mAh lithium-polymer battery.
Operating system
The DS808 diagnostic scanner uses Android 4.4.4 operating system with the cortex-A9 processor. On the other hand, the MS906 automotive scanner utilizes the Android 4.4.2 KitKat operating system with Samsung Exynos 6-core processor.
Related: Autel MK808 VS MX808
Last but not least, the MS906 is more costly than the DS808 scan tool. This is because of the larger size and more advanced hardware that it comes with.
Final Decision: Autel DS808 or MS906?
Choosing the best scan tool for your needs is not easy. This is because there are many scan tools on the market with the same functions and features. In this case, the Autel MS906 and DS808 may appear to be similar, but they as well vary a lot. If you're looking for a quality mid-range diagnostic code reader, then we advise you to try out the DS808 scan tool. But if you're a professional mechanic or a big Auto repair shop, then you should go for the more powerful and faster MS906 scan tool. This tool is more expensive but have more functions and performs better than the DS808 code reader.
FAQ
Question: What is the key difference between the Autel DS808 VS MS906 scan tools?
Answer: This is a good question. Many people ask what the difference is between the Autel DS808 VSMS906 scanners. Since they have similar functions, people tend to wonder why one is cheaper, and the other is costly. These two scanners may have the same function in software, but they differ in hardware configuration. The MS906 scan tool is more advanced than the DS808 scan tool. The DS808 features a small battery and LCD screen, while the MS906 has a larger battery and screen size. The MS906 code reader is also more powerful and faster than the DS808 scan tool.
Question: Does both of these diagnostic scanners have bi-directional control and diagnostics for the body and control module?
Answer: Yes, they do. As a matter of fact, these two tools share many functions and features. Their biggest difference is in their hardware configuration. So, you can be sure that these two scanners will support bi-directional control and diagnostics for the body control module.
Still, have a question after reading this Autel maxidas ds808 vs Autel maxisys ms906? Comment below.