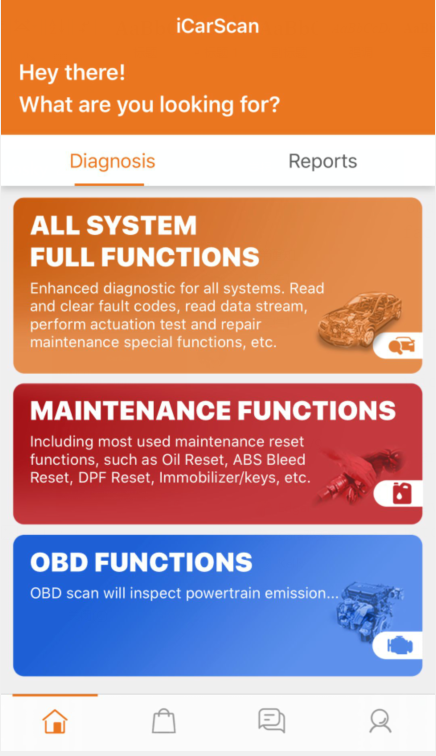 Launch icarscan Highlight:
1. Cover Up to 115 major car software and 15 kinds of reset service
2.support car full system diagnostic,including Airbag,SRS,Engine,Gearbox,AT,and more…
3.EOBD2, DEMO  and 5 car Software All free
After activating the device, you will get DEMO +EOBD2+ 5 car software. you can select any 5 of the manufacturer software in iCarScan APP and you can use them free for one year.
if u need more ,pls buy software on the application.
Manufacturer Software Price for Each: $39.95/year
Reset Software Price for Each: $49.95/year
4.Bluetooth connect with Phone ,app name is : icarscan
5.Plug icarscan into the OBD port, open icarscan App on the smartphone to do the vehicle diagnosis.
The iCarScan VCI (vehicle communication interface) can turn your Android/ios smartphone into a professional automotive diagnosis tool. Users can communication with automotive's OBDII socket via BlueTooth with an Android smartphone/ tablet, to achieve full systems and full function diagnosis, include reading/ clearing trouble codes, data stream, actuation test, adaptation, ECU coding & programming, oil reset, other special function, etc.
Launch X431 icarscan is an Automotive Diagnostic Device powerful than easydiag. it supports full systems diagnsis for the car ,16 kinds of reset functions, and 115kinds of car software .it including kinds of car software .you can delete car errors codes and reset the system if you have the icarscan.
LAUNCH X431 iCarScan Auto Diagnostic Tool:
1.Multi-Language: English, French, German, Spanish, Italian, Portuguese, Japanese, Russian
2.Build-in bluetooth , easily connects with Android/ios smartphone and tablet
3.Full systems and complete function diagnosis for the most extensive coverage of OE-level diagnostics
4.Widest carline software coverage: Support the generic OBD, CAN bus, and proprietary protocols of over 115 car manufacturers and3, 000 car models;
5.Support multiple special function software and actuation tests
6.Intuitive interface and easy to use
Launch iCarscan functions:
1.All Systems Full Functions Diagnosis, Icarscan will reading car system fault codes, and clear system fault codes.
2.Icarscan will read car VIN one second.it can recognize your car type automotive which helps a lot when u repair a car.
3.Icarscan can communicating with ECU, doing the ECU coding for your car .
4.Support Action test functions. it is a powerful functions, one professional diagnostic tool must have this function!!!
5. Icarscan will Read vehicle's live data, and present by graph. Optional combination of multiple data.
6.Support do a OBD vehicles diagnostic report, and print  the vehicles report from pc it help you to understand car's problem.and make you know how to repair car.
7.Support 15 kinds of reset functions, including AFS reset, and IMMO reset and so on….