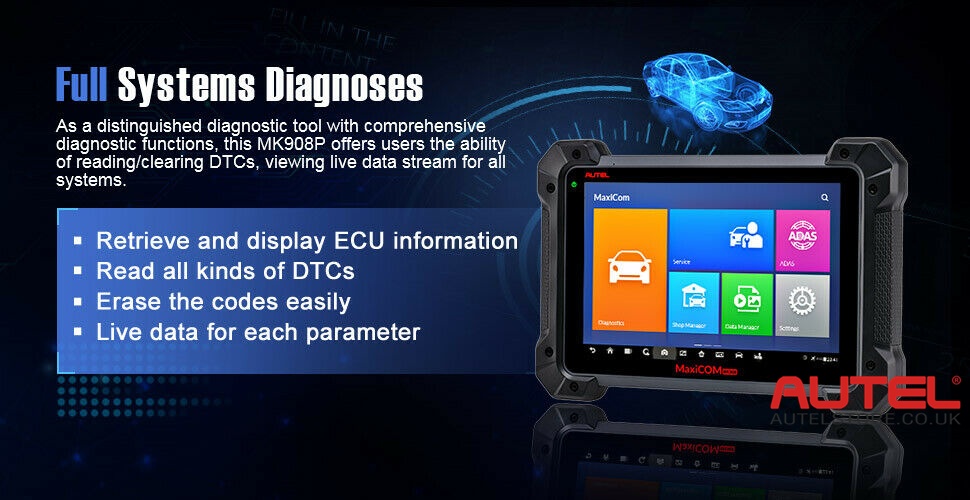 Autel MaxiCOM MK908P, the upgraded version of MS908P, Offering comprehensive OE-level diagnostics, ECU coding and BMW/Benz ECU programming, the MK908P is an ideal automotive diagnostic tool for mechanics to troubleshoot the warning lights and fix the vehicle control modules' issues
Advantages:
1. ADVANCED HARDWARE: MK908P, as the advanced version of MS908P, features Hexa-Core processor upgraded from Quad-Core, Android 4.4.2 OS upgraded from Android 4.2, the 10.1″ 1920*1200 screen upgraded from 9.7″ 1024*769, and 15000 mAh battery capacity increased by 4000mAh.
2. BI-DIRECTIONAL CONTROL: The diagnostic tool supports bi-direction control to check the vehicle operating conditions. The bi-directional control of the ECM in Component Test enables the MK908P to transmit control commands to operate the vehicle systems.3. ADDITIONAL SERVICE: The automotive scanner is designed to serve users with a rich array of easy- to-use functions and features. The MaxiFix provides you with an online troubleshooter database, and Remote Desk allows you to get help from others via Team Viewer software.
4. Multiple Languages: English, Spanish, French, German, Polish, Italian, Japanese, Korean, Dutch, Portuguese, Turkish, Swedish, Thai, Arabic, Russian
Wide Vehicle Coverage
Chrysler, Dodge, Ford, GM, Jeep, Abarth, Alfa, Citroen, Fiat, Lancia, Opel, Peugeot, Porsche, Renault, Saab, Vauxhall, Volvo, Aston Martin, Audi, Bentley, Benz, Sprinter, BMW, Bugatti, Ferrari, Jaguar, Lamborghini, Land Rover, Maserati, Maybach, Mini, Rolls-Royce, Seat, Skoda, Smart, VW, VW CV, Dacia, Ford EU, LT3, Acura, Daewoo, Daihatsu, Honda, Hyundai, Hyundai CV, Infiniti, Kia, Lexus, Maruti Suzuki, Mazda, Mitsubishi, Nissan, Nissan GTR, Samsung, Scion, Ssang Yong, Subaru, Suzuki, Toyota, Isuzu, Mahindra, Perodua, Proton, TATA, HINO,UD, Fuso
Protocols Supported:
ISO 9142-2, ISO 14230-2, ISO 15765-4, K/L-Line, Flashing Code, SAE-J1850 VPW, SAE-J1850 PWM, CAN ISO 11898, High-speed, Middle speed, Low speed and Singlewide CAN, GM UART, UART Echo Byte Protocol, Honda Diag-H Protocol, TP 2.0, TP 1.6, SAE J1939, SAE J1708, Fault-Tolerant CAN